Bolivar firefighters create life-saving exercise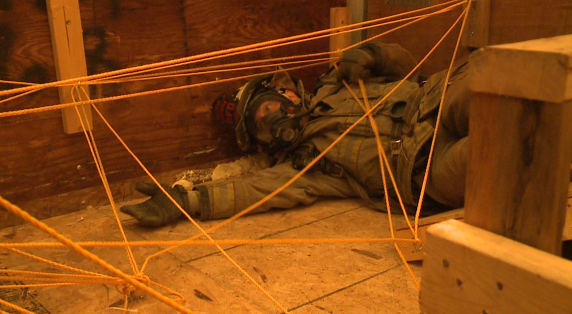 [gtxvideo vid="A4FN4qhs" playlist="" pid="OTSe9U1y" thumb="http://player.gtxcel.com/thumbs/A4FN4qhs.jpg" vtitle="Bolivar FD Equipment – Bryan"]
BOLIVAR, Tenn. — The Bolivar Fire Department has created a unique fire training exercise. It's called the Bolivar Air Management Facility, which is essentially a maze built inside a trailer. The purpose for it is to mimic obstacles firefighters could face inside a burning home. "Every day when they go out to a job they don't know if they are going to make it home," James Futrell said. That's why training can mean the difference between life and death. Bolivar Fire Department firefighters created a one-of-a-kind maze built on a trailer to simulate a burning building.
Firefighters say it could one day save their life.
"This is the SCBA trailer. It's a survival trailer," Tommy Breeden said. "Once you go in there, you will eventually have to find your way out." SCBA stands for self contained breathing apparatus. It's the gear firefighters wear to breathe in thick smoke. The trailer is designed to teach the men and women who run into burning homes how to maximize their breathing. The maze was funded by the city and donations from residents such as Brian Smith. "These guys put their lives on the line for us, so we do anything we can to help them," Smith said. The maze is made up of three levels, a tunnel, a tight rope jungle and even a trap door. "We are helping them with real-life scenarios," Smith said. "When they go into a burning building, they are going to have to go in and shut the electric off and be mindful of the electric in there." The Bolivar Fire Department says they would like to thank the city council, the firefighters who built the trailer, Roger Henson for donating the trailer, Henderson Heating and Air for donating a unit and Brian Smith Electric. The department says they hope to continue to build on the trailer and turn the area into a complex for other fire departments to come train.