Jackson police warn movers of Craigslist scam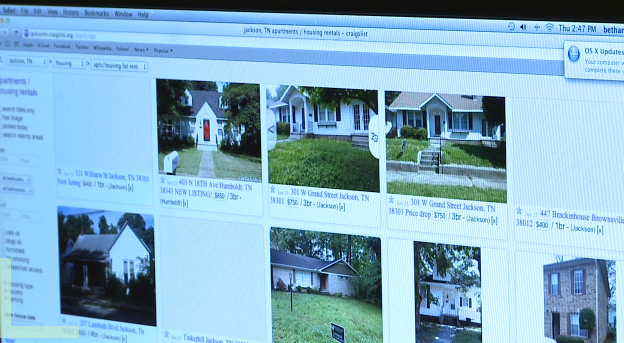 JACKSON, Tenn. — Jackson police say scammers are using the Internet to advertise property they don't own. But by the time victims realize they've been had, they've already lost money. Police say scammers are pocketing thousands of dollars by taking advantage of West Tennesseans who are looking to move. "They go and either take a photo off another ad that's either a house that actually is for sale or for rent, and then they make up a fraudulent ad," Lt. Jeff Shepard said. Shepard says scammers are using websites like Craigslist to advertise homes for sale and rent.
Tami Reid with the Hickman Reality Group says these criminals advertise good deals to entice renters. "If it's for rent and you drive out to the property and it has a 'for sale' sign in the yard, I suggest that you call the realtor's name that's on the sign and ask if this property is actually for sale," Reid said. She says the most common type of scam on a Craigslist ad is a desperate one. "And they're saying desperate emergency, had to leave town quick, had to get the home rented quick, and it's usually for a great deal on rental," Reid said. Shepard says the scammers ask the victim to put deposits on prepaid debit cards such as a Green Dot card. "They think they're putting money down on a house, that give these people the numbers on the card, well that's just like cash," Shepard said. "Once you give them those numbers, it's gone." Reid recommends an easy way to spot a scam on Craigslist. "If it sounds too good to be true, then it's too good to be true," she says. Shepard says ask to meet the homeowner at the house to see if they have a key. Reid says you can also avoid these scams by looking up who owns the property and making sure the name matches the person you are in contact with. You can look at http://www.assessment.cot.tn.gov/RE_Assessment/. Make sure you see the property you are wanting to rent and look inside the property. Another way scammers advertise is that they are out of town and can't give a tour of the house. Never give out your personal information such as phone numbers, addresses, social security information or bank account information. Misspellings are also a common sign of scams. Shepard says this is because they are posting so many ads they make more mistakes.