Handi-capable hunting expands in West Tennessee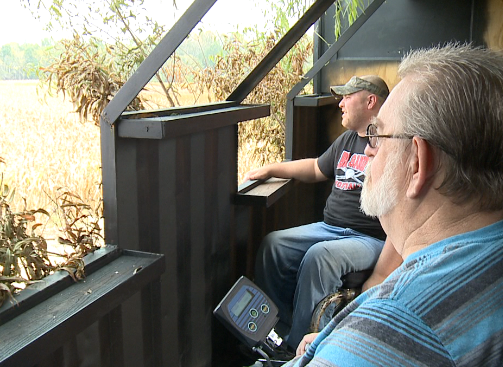 [gtxvideo vid="uJxPYt3Z" playlist="" pid="OTSe9U1y" thumb="http://player.gtxcel.com/thumbs/uJxPYt3Z.jpg" vtitle="Handicap Duck Blind"]
BENTON COUNTY, Tenn. — A special group of duck hunters are rolling into this year's season with an opportunity they haven't had in years — the chance to sit in a blind and hunt again.
Duck season is a little more than a month away, but for West Tennessee residents who are physically disabled it's going to be filled with handi-capable hunting.
"It gives people like me the opportunity to get out and hunt again and kill a few ducks," Danny Hooten said.
For Hooten, it brings him back to Camden Bottoms, a place he hasn't been in years.
He's been bound to a wheelchair for the past two years after an accident left him paralyzed from the waist down.
"That slowed me down from a lot of the activities that I used to do, but I love duck hunting so much I just hated giving it up," Hooten said. "If they hadn't done something like this, I was going to have to."
It's a duck blind just like any other, but it's just a little easier to roll into.
"We don't have to worry or struggle to get in and get out," duck hunter Jerrod Barry said. "We can just go out here and go and spend the morning and afternoon together and hunt and see some ducks."
It was built by the Tennessee Wildlife Resources Agency after they became aware of the need.
"I didn't realize how many people were in a wheelchair that wanted to hunt," TWRA agent David Ulderich said. "We've had several people asking months ago when's it going to be ready what do I have to do."
It was all a dream that quickly became a reality to support Hooten who, before his accident, spent his life supporting the community.
"You couldn't have asked for a better person to have it dedicated to," Barry said. "I mean as much service as he's given to this county and helped other people."
But although he's humbled by the dedication, Hooten said this blind means he and others just like him now have the chance to do what they love.
"I'm just grateful for the opportunity to go out hunting again," Hooten said. "I can't wait for the season to get here."
This isn't the first handicap-accessible duck blind in West Tennessee. The TWRA already has three similar ones at Reelfoot Lake.
Duck hunting season begins Nov. 29 in Tennessee. If you'd like to send in an application for the blind drawing, go to the TWRA's website.