7th Hottest Summer on Record in Jackson
JACKSON, Tenn. — Summer 2016 will go down as the 7th hottest Summer on record in Jackson.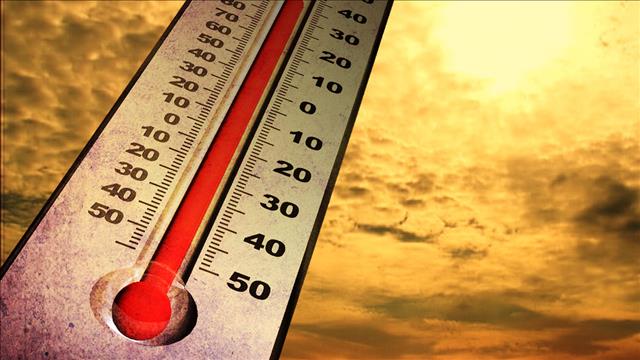 The term "Meteorological Summer" refers to the period from June 1st to August 31st. The Vernal (first day of Summer) and Autumnal (first day of Fall) Equinoxes change on the calendar from year to year. That's why meteorologists measure the seasonal climate in 3-month periods for equal comparisons of the data year-to-year using the same dates.
This Summer, Jackson had an average temperature of 80.5°F. Compare that to the average Summer temperature of 78.1°F and this summer was 2.4°F above average! We had the 9th hottest June (78.9°F) on record, the 13th hottest July (81.9°F), and the 12th hottest August (80.6°F).
One of the unique characteristics about this Summer, was that the temperatures in the early morning – our nighttime lows – were unusually warm. Temperatures from the morning of July 18th to the night of August 21st didn't drop below 70°F for 35 days in a row – a feat that set a new record for the most consecutive days above 70°F in Jackson.
It's possible that humidity is to blame for this, because air that is humid is more difficult to cool down than air that is dry. This would explain why temperatures were so warm in the morning this Summer. Our 7th hottest Summer certainly couldn't be explained by having hot afternoons. We didn't have a single day at or over 100°F in Jackson this year and only had 15 days at or above 95 – a below average total.
This Summer the average temperature was 80.5°F making it the 7th hottest Summer on record, but the 6th hottest Summer on record was in 2007 when the average temperature was 80.6°F. If you were in West Tennessee during August 2007, you might be able to recall how hot it was then! We reached 100°F 17 times that month and recorded what remains the 2nd hottest temperature ever recorded in Jackson – 106°F on August 16, 2007.
In terms of precipitation, some areas of Madison county had their wettest Summer on record and some were unusually dry. Take for instance this map…

The McKellar-Sipes Regional Airport observed the lowest amount of rainfall for the Summer across the county and yet just a little over 5 miles southeast of the airport, National Weather Service Storm Spotter William Brantley reported a record 22.58″ in Bemis! Precipitation or rainfall data is harder to compare, because during the Summer months, showers and thunderstorms can be isolated causing people on the other side of town to have heavy downpours while you could be sitting in sunshine!
September 1st now marks the beginning of meteorological Fall but the latest outlooks from the Climate Prediction Center indicate West Tennessee could be in store for more warmer-than-normal temperatures. A one month temperature outlook for the month of September shows that we are in an area of enhanced odds of warmer-than-normal temperatures and below normal precipitation totals.
At this point, we'll have to take it a day at a time and see how September pans out but it looks like West Tennessee may not be completely finished with the air conditioning.
Tom Meiners
Storm Team 7 Chief Meteorologist, CBM
Twitter – @WBBJ7TomMeiners
Facebook – facebook.com/WBBJ.tom.meiners
Email – tmeiners@wbbjtv.com