Student removed from Liberty Tech for having handgun at school
JACKSON, Tenn. — Officers removed a student Wednesday morning from Liberty Technology Magnet High School for having a handgun inside the school, according to the Madison County Sheriff's Office.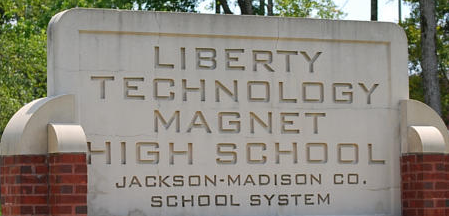 The student is currently on house arrest following a detention hearing after deputies responded to the school around 10 a.m. and recovered a handgun, according to Public Information Officer Tom Mapes with the sheriff's office.
According to juvenile court officials, the student is a 15-year-old ninth grader and is currently under house arrest. They say the gun was a .357 magnum revolver.
Another student reportedly told a teacher about seeing the gun. The principal then notified a student resource officer who was able to secure the weapon and remove the student, according to Mapes.
Mapes also said the situation is still under investigation and they do not have a motive as to why the weapon was in the backpack.
The school system released a statement saying parents have been notified.
"This morning, School Resource Officers and the principal of Liberty Technology Magnet High School were informed that a student was in possession of a gun," the release state. "SRO officers immediately removed the student from the classroom and did confirm the student to be in possession of a gun in the student's backpack. The student was transported to a detention facility and the student's guardians were notified. Possession of a gun on a school campus is a zero-tolerance offense."
The Sheriffs Department is using this as an example of how people should respond.
"When you see something strange or unusual or dangerous, let law enforcement know and let us come check it out and protect you." Mapes said.