Five escape early morning house fire in midtown Jackson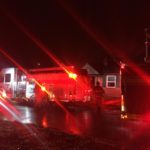 JACKSON, Tenn. –Five people escape an early morning house fire at a home in midtown Jackson.
Jackson firefighters say it happened at a home in the 100-block of Williams Street.
Firefighters say it started in the kitchen of the home around 4:00 a.m. Tuesday.
They say five people were in the house: 2 adults and 3 children.
Firefighters say EMS responded, but no one got hurt. They say the Red Cross will assist the family.
Authorities say the house sustained smoke and fire damage.
Investigators say they're checking to see if the smoke alarms in the home were working at the time.
Firefighters say the fire doesn't appear to be suspicious, but is still under investigation.