City Council passes resolution to reroute $12M from school system
JACKSON, Tenn. — The Jackson City Council has passed a resolution to pull a portion of sales tax revenue the city had been voluntarily giving to the school system.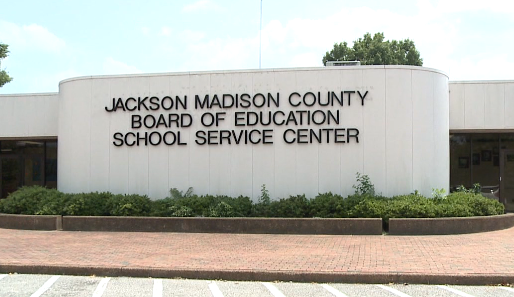 Council members approved the resolution Thursday morning during a specially called meeting. The resolution passed with 6 in favor, 1 against, and 1 abstaining. Vicki Foote (District 1) abstained, Charles Rahm (District 8) voted no and David Cisco was not present.
Those who voted in favor of the resolution are Johnny Lee Dodd, Ernest Brooks II, Harvey Buchanan, Scott Conger, Charles "Pepper" Bray and Randy Wallace.
The resolution reallocates a portion of a local sales tax back into the city's general fund. The money had been going to the school system.
It will result in about $12 million staying the in city's fund rather than going to the school system.
"Jackson residents need their streets paved, and they need some storm water management done, and a lot of improvements need to be made in our city," Jackson Mayor Jerry Gist said. "They had to give that up if we kept the funding as it is."
Budget Committee recommendation: The city used a PowerPoint presentation to outline the Budget Committee's recommendation to reroute the tax dollars. See the images from the presentation here.
A video explanation: A video was also shown during the meeting in which Steve Bowers, TV-Media Manager at Jackson Energy Authority, talks about the education budget. You can watch the video on YouTube.
County Mayor Jimmy Harris says they would have to raise property taxes nearly 30 percent to make up the difference.
"We've had a pretty good working relationship with the city over the last few years, and I guess you could say I look at this as a pretty good kick in the teeth," County Mayor Harris said.
Mayor Gist says this is a huge win for the city and will make things more fair because 89 percent of total local dollars going to local schools have been paid by city residents.
"$12 million is a big pull. That's what makes it 50/50. If we left $12 million with the county, then we would still be at 89 percent of funding public education through the city of Jackson residents, and that's not exactly equal," Mayor Gist said.
JMCSS School Board Chairman Bob Alvey says they will see a hit from this and will be working with the county to see what they can do.
"The school children in Jackson and Madison County are going to be hurt. In spite of all the words that were said today, you know there will be an impact on children and education, and that is my greatest concern," Alvey said.
We'll have more on this vote and what it could mean on WBBJ 7 Eyewitness News.