UPDATE: Suspect in custody in connection with deadly stabbing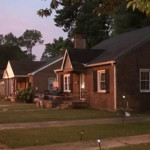 JACKSON, Tenn. — Authorities release new details in a death investigation at a home in west Jackson.
The lights from the TV still flickering in the living room as investigators search for clues.
"Officers arrived and found a person that had been stabbed, and they were transported to a local hospital where they were pronounced deceased," said Lt. Phillip Stanfill with the Jackson Police Department.
Lt. Stanfill says they got the call for help from someone inside the house at 159 Glendale street around 3 a.m. Wednesday. When police got there, they found a man in his thirties suffering from multiple stab wounds.
"At this time, we have a suspect in custody. We are not commenting on the relationship or circumstances pending further investigation," Lt. Stanfill said.
The names of the victim and suspect have not been released.
WBBJ cameras were on scene and rolling as investigators combed the scene. Hours later, a fire truck pulled up and crews searched the roof of the home for what looked like a weapon.
We asked investigators if there were any small children inside the home. There are several small children's toys on the porch, and investigators say they are working to determine exactly who was inside the home at the time of the incident.
Neighbors say this comes as a shock and is upsetting this happened in what is usually a quiet community.
Investigators assure it's still a safe place to live.
"This is not a random act of violence," Lt. Stanfill said. "These people knew each other, and we have a suspect in custody. We are just in the process of working the scene."
Stay with WBBJ 7 Eyewitness News as more information becomes available.