Front to Bring Some Storms this Weekend, Trouble in the Tropics
Saturday Update
WBBJ 7 Forecast Update:
The morning has brought some patchy dense fog but otherwise rain chances will be very limited for the first half of our Saturday. We are expecting one more hot day ahead before some cooler weather returns to West Tennessee. A cold front is coming late this evening that will usher in a few evening storms and a potential line of storms tonight into Sunday morning.
A few gusty storms will be possible and a severe storm cannot be ruled out. Rain chances will linger Sunday into Monday but cooler weather is also on the way for next week. Catch the latest timing on possible storms where you live and the rest of your forecast, including a likely tropical system in the Gulf of Mexico early next week, coming up here.
THE WEEKEND:
Temperatures are expected to cool down some this weekend depending on the strength of the next front. Highs will still reach the mid to upper 90s on Saturday depending on the timing of the front but fall down to around 90° on Sunday.
There is a chance if the front shows up Saturday afternoon or some early day rain pops up, the temperatures might not reach the upper 90s on Saturday. We are under a marginal (1/5) risk for severe storms on Saturday. There could be some late afternoon and evening storms as well as a potential line of storms Saturday night into Sunday morning as the front passes through.
Overnight lows will drop down to around 70° each night. The winds will come out of the north of northeast this weekend after the front passes which will also keep the humidity down some as well as the overall temperature for Sunday. We could see a quick shower or two again on Sunday afternoon and evening depending on how far south the front gets before it stalls out on Sunday. There looks to be another shot for rain on Monday morning before the system clears out. If you do have weekend plans stay weather aware as there will be enough storm energy that where the storms pop, some gusty winds and heavy rain will be possible.
NEXT WEEK:
The weekend front will stall out as we kick off next week and that will lead to a chance for a few showers late Sunday night into the day on Monday morning. Monday will be the best shot for rain in the forecast next week but chances still only sit around 20%. Most of next week looks dry but it will depend on a potential tropical system and if it develops and where along the gulf coast it makes landfall in the middle of next week.
The most likely shot for rain looks to be early in the day on Monday. Skies will be partly cloudy on Monday but mostly sunny skies are likely to return for the middle of the week. Highs next week look to make it up only to the mid 80s with overnight lows in the mid to upper to mid 60s. The winds are forecast to have a northerly component to the them for at least the first half of the week. Next week looks much cooler than this one. We might need to adjust the forecast as the week goes on due to a potential tropical system developing in the Gulf of Mexico in the middle of next week.
HEAT SAFETY TIPS:
The CDC reports that around 700 people per year die from heat related deaths. It's important to know the signs of heat related illnesses such as heat exhaustion or a heat stroke.
The best way to beat the heat is to know the signs of these heat related illnesses, stay hydrated, and try to keep cool.
Heat exhaustion is a very serious heat related illness. According to the CDC, the following are signs of heat exhaustion:
• Heavy sweating
• Cold, pale, and clammy skin
• Fast, weak pulse
• Nausea or vomiting
• Muscle cramps
• Tiredness or weakness
• Dizziness
• Headache
• Fainting (passing out)
And the CDC recommends the following for someone who is suffering from heat exhaustion:
• Move to a cool place
• Loosen your clothes
• Put cool, wet cloths on your body or take a cool bath
• Sip water
Get medical help right away if:
• You are throwing up
• Your symptoms get worse
• Your symptoms last longer than 1 hour
Prolonged exposure to extreme temperatures or heat exhaustion can lead to heat stroke, if not cautious.
According to the CDC website the following are signs of Heat Stroke:
• High body temperature (103°F or higher)
• Hot, red, dry, or damp skin
• Fast, strong pulse
• Headache
• Dizziness
• Nausea
• Confusion
• Losing consciousness (passing out)
And the best way according to the CDC to treat heat stroke is to do the following:
• Call 911 right away, heat stroke is a medical emergency
• Move the person to a cooler place
• Help lower the person's temperature with cool cloths or a cool bath
• Do not give the person anything to drink
The severe heat can cause other heat related illnesses. Sunburns, sometimes severe, are always a possibility with exposure to sun. It is so important to always wear sunscreen and try to wear clothing or accessories like hats to prevent sun damage.
Stay informed of heat related illnesses, drink plenty of water and stay hydrated, and be mindful of feeling overheated. Seek shelter from the sun and hot temps when its possible, and keep a check on relatives or friends who may be affected by the extreme temperatures.
LATEST IN THE TROPICS: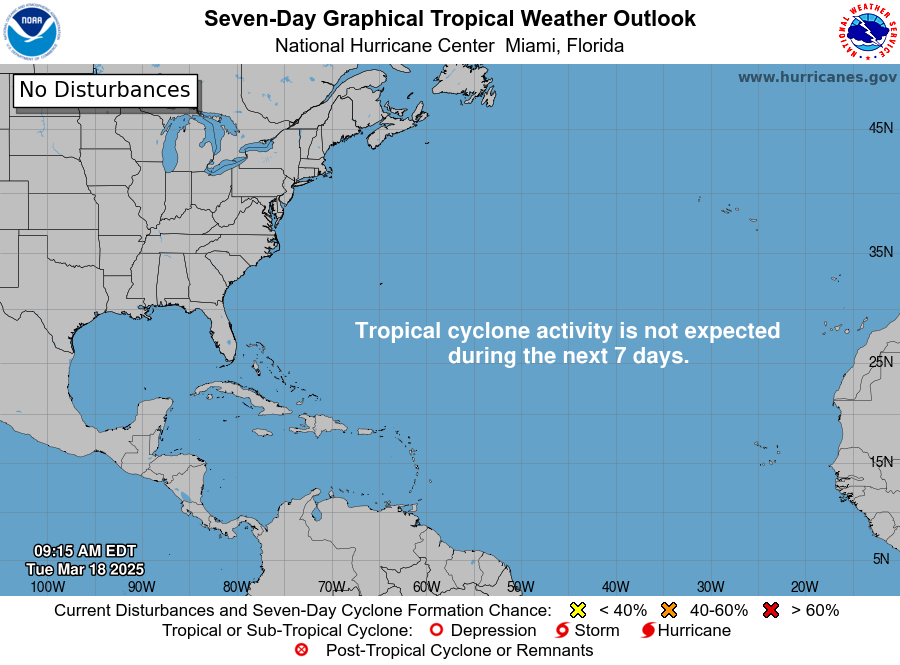 For the North Atlantic...Caribbean Sea and the Gulf of Mexico:
Active Systems:
The National Hurricane Center is issuing advisories on Tropical 
Storm Franklin, located a couple of hundred miles east of the Turks 
and Caicos Islands. 

1. Northwestern Caribbean Sea and eastern Gulf of Mexico (AL93):
Satellite images indicate that the area of low pressure over the 
northwestern Caribbean Sea is gradually becoming better organized, 
with increasing thunderstorm activity and a better-defined 
low-level circulation.  Environmental conditions appear conducive 
for further development during the next several days, and a 
tropical depression is likely to form late this weekend or early 
next week while it moves generally northward over the eastern Gulf 
of Mexico.  Interests in the Yucatan Peninsula of Mexico, western 
Cuba, and Florida should monitor the progress of this system.
* Formation chance through 48 hours...medium...40 percent.
* Formation chance through 7 days...high...80 percent.

2. Central Subtropical Atlantic (Remnants of Emily):
A trough of low pressure located roughly 1000 miles east-northeast 
of Bermuda (the remnants of former Tropical Storm Emily) is 
producing an elongated area of disorganized showers and 
thunderstorms.  Environmental conditions are becoming unfavorable 
for tropical cyclone formation, and the low is expected to merge 
with a frontal boundary over the north central Atlantic in the next 
day or so.  For additional information on this system, including 
gale warnings, see High Seas Forecasts issued by the National 
Weather Service.
* Formation chance through 48 hours...low...10 percent.
* Formation chance through 7 days...low...10 percent.

3. Central Tropical Atlantic (AL92):
Disorganized showers and thunderstorms continue in association with 
an area of low pressure located about midway between the Cabo Verde 
Islands and the northern Leeward Islands.  Environmental conditions 
could become more conducive for development over the weekend, and a 
tropical depression could form by early next week while the system 
moves generally northwestward toward the central subtropical 
Atlantic.
* Formation chance through 48 hours...low...20 percent.
* Formation chance through 7 days...medium...50 percent.

4. Eastern Tropical Atlantic:
A tropical wave is forecast to move off the west coast of Africa 
early next week. Some slow development of this system is then
possible late next week while the system moves westward across the 
Tropical Atlantic.
* Formation chance through 48 hours...low...near 0 percent.
* Formation chance through 7 days...low...20 percent.
FINAL THOUGHT:
Highs are expected to well above normal to kick off the weekend. The rain and storm chances are slim to none until the weekend, but chances increase as the cold front gets a little closer. The heat and humidity will be a factor on Saturday until the front passes by Saturday night or Sunday morning. The tropics are starting to heat up and will be getting plenty of attention from us meteorologists in the south as we could be looking at a tropical storm in the gulf next week. You need to stay alert to changing weather patterns and monitor the forecasts closely for the heat wave this week. We got you covered in the WBBJ 7 Storm Team Weather Center as always.
For tips on preparing for the storms, click here. To download the WBBJ 7 Weather app, click here.
Storm Team Chief Meteorologist
Joel Barnes
Facebook: @JoelBarnesWeather
Twitter: @JoelBarnes13
Instagram: @joelbarnes13