Storm Chances Return to West Tennessee Tuesday & Wednesday
WBBJ 7 Forecast Update
WBBJ 7 Forecast Update:
It was a hot Labor Day and a few showers will be possible tonight. Showers and storms are again in the forecast for Tuesday and Wednesday across West Tennessee. The storms will develop Tuesday under an unstable air mass and a cold front will pass by Wednesday afternoon bringing another shot for some gusty wind storms. We are under a marginal risk for severe storms (1/5) as of now and might be upgraded to a (2/5). Catch a full report and latest timing on the potential storms right here.
TONIGHT:
After a very nice weekend across the region, some hotter weather moved back in for Labor Day. Partly cloudy skies are expected tonight and a few of the showers and storms west of the Mississippi River will try to drift east into West Tennessee. Chances for rain is around 30% tonight but increases to 50-60% for Tuesday and Wednesday. Overnight lows will fall down to the low 70s as it will be a warm and humid night. The winds will be light and come out of the southeast.
TUESDAY:
Some showers and isolated storms will return on Tuesday to West Tennessee as a cold front gets a little closer. It will be a hot and humid start to the day that might help fuel a few of the storms to produce some gusty winds, but overall the severe weather threat is low on Tuesday. Some stronger storms will be possible on Wednesday.
Highs on Tuesday will reach up to around 90° and it will be humid making it feel close to 100° in the afternoon for the folks that do not encounter one of the showers to cool things down some. The winds are still forecast out of the south around 5-10 mph. Skies will be partly cloudy in general but could increase overnight into Wednesday as the front gets closer. Tuesday night lows will fall down to around 70°.
WEDNESDAY:
A cold front will pass on Wednesday that will usher in a round of storms into the afternoon. Some of the storms could be strong as all of West Tennessee is under a marginal risk (1/5) for severe storms as of Monday evening.  There is a chance for an upgrade to a slight risk (2/5) for some of us. Temperatures will cool down also towards the back half of the work week behind the front.
The winds will come out of the southwest until the front passes into the evening hours. Highs on Wednesday will still reach up to around 90° and it will be quite warm and humid until the front passes. Skies will start out mostly to partly cloudy but the clouds should decrease into the evening and expect mostly clear skies by Wednesday night. Wednesday night lows are forecast to drop down into the upper 60s.
THURSDAY:
Thursday will be a little cooler with the northwest winds back behind Wednesday's cold front. Highs will reach the mid to upper 80s and overall, expect a mostly sunny nice day. It will not be as humid as early in the week and rain showers are not expected at this time. Thursday night lows will fall down to the mid 60s due to the drier air mass lingering around.
FRIDAY:
There could be another weak front to pass by on Friday that might bring a few showers but as of now the front looks to be a mostly dry one. The winds will come out of the north on Friday and stay that way through the weekend behind the next front. Skies will be partly cloudy on Friday due to the approaching front, but showers chances again remain low. Friday night lows will fall down to the low to mid 60s making for a pleasant start to the upcoming weekend.
THE WEEKEND:
The 2nd weekend of September actually looks like it is going to be quite nice. Highs should only reach the low to mid 80s, but that is actually pretty close to normal for this time of the year. Overnight lows will dip to the low 60s both nights. It will not be an overly humid weekend due to the northeast breeze that should be hanging around for both Saturday and Sunday. Skies will be sunny to mostly sunny each afternoon. Chances for rain looks quite low and will look to stay that way as we kick off next week as well.
LATEST IN THE TROPICS: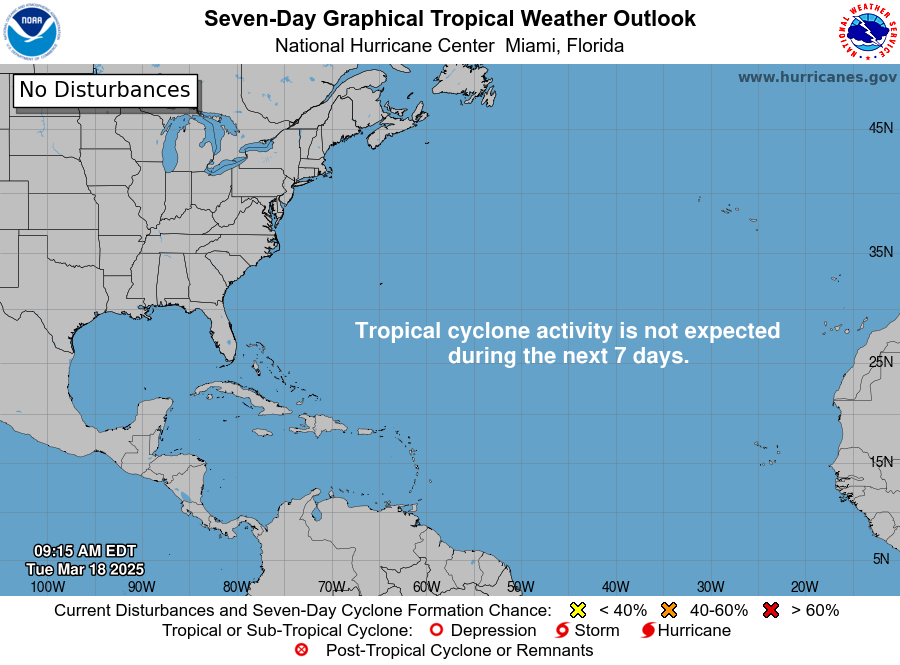 Active Systems:
The National Hurricane Center is issuing advisories on Tropical 
Depression Katia, located over the eastern subtropical 
Atlantic, and has issued the last advisory on the remnants of Gert, 
located over the central subtropical Atlantic.

1. Central Tropical Atlantic (AL95):
Satellite imagery indicates that an area of low pressure has formed 
from the tropical wave centered about 700 miles west-southwest of 
the Cabo Verde Islands. The low-level circulation has become better 
defined since yesterday, with increasing organization in the shower 
and thunderstorm activity. Environmental conditions are forecast to 
be conducive for further development, and this system is expected to 
become a tropical depression or a tropical storm in a day or two. 
Additional strengthening is likely late this week while the system 
moves westward to west-northwestward at 15 to 20 mph over the 
central and western portions of the tropical Atlantic. For 
additional information on this system, including gale warnings, see 
High Seas Forecasts issued by the National Weather Service.
* Formation chance through 48 hours...high...90 percent.
* Formation chance through 7 days...high...near 100 percent.

2. Eastern Tropical Atlantic:
A strong tropical wave over western Africa is forecast to move off 
the African coast in a couple of days. Environmental conditions 
should support some slow development, and a tropical depression 
could form over the far eastern tropical Atlantic around the latter 
part of the week or the weekend while the wave moves to the 
west-northwest at about 15 mph.
* Formation chance through 48 hours...low...near 0 percent.
* Formation chance through 7 days...medium...50 percent.

3. Northeastern Atlantic (ex-Franklin):
Post-Tropical Cyclone Franklin is located several hundred miles 
north of the Azores and is forecast to move quickly southeastward 
towards warmer waters east of Azores. This system could acquire some 
subtropical or tropical characteristics late this week or this 
weekend while it moves erratically between the Azores and Portugal. 
For additional information on this system, including gale warnings, 
see High Seas Forecasts issued by Meteo France.
* Formation chance through 48 hours...low...near 0 percent.
* Formation chance through 7 days...low...20 percent.

FINAL THOUGHT:
Highs are expected to be above normal to kick off the work week and stay that way through Thursday. The rain and storm chances increase as the temperature and humidity increased in our area.  Tuesday and Wednesday we will be dodging showers and storms. The tropics are starting to heat back up and a hurricane looks likely to be heading into the Caribbean by this weekend. We got you covered in the WBBJ 7 Storm Team Weather Center as always.
For tips on preparing for the storms, click here. To download the WBBJ 7 Weather app, click here.
Storm Team Chief Meteorologist
Joel Barnes
Facebook: @JoelBarnesWeather
Twitter: @JoelBarnes13
Instagram: @joelbarnes13