CEF Good News Worship Event
When:
May 3, 2019 @ 6:00 pm
2019-05-03T18:00:00-05:00
2019-05-03T18:15:00-05:00
Where:
Northbrook Church
421 Us Highway 45 W
Three Way
TN 38343

Contact:
CEF of Greater Jackson
7317362786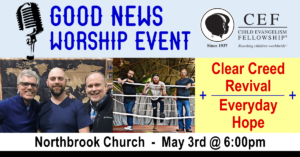 Come and be with us to experience a unique night of worship. First, we will start off with "Clear Creed Revival," which will be made up of members / friends of Northbrook Church. Their teaching pastor, Chuck Maxwell, will be bringing out his guitar to help lead this part of the event. Then, our friends from Chapel Hill BC, "Everyday Hope," will lead us in some high energy worship.
Style? Well, if you are more inclined to worship with a more modern beat, this will be the event for you! The night will feature a full spectrum of the flavors of worship with Christian Rock, Christian Contemporary, Praise & Worship, Bluesy, and maybe even some Celtic flavored worship. This will be a relaxed but meaningful worship experience with a coffee shop feel. Put this on your calendar now… don't miss it!