DARE on the Square
When:
2019-05-04T00:00:00-05:00
2019-05-05T00:00:00-05:00
Where:
Trenton Amphitheater
Trenton
TN
Contact:
Jaylie Shaver
731-414-1803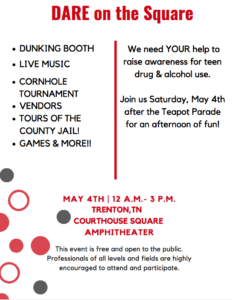 This event will be held after the Trenton Teapot Parade. DARE on the square will help raise awareness for drug and alcohol use in students and teenagers. Join us for an afternoon of games, food, & fun. We will have live music and a guest speaker to tell their story of how drugs and alcohol affected their life.