Farmers need high yields to make up for low prices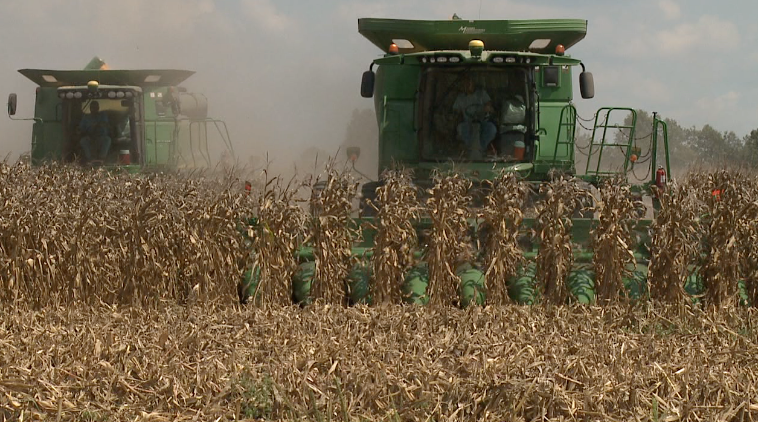 [gtxvideo vid="qeoUBOH0″ playlist="" pid="OTSe9U1y" thumb="http://player.gtxcel.com/thumbs/qeoUBOH0.jpg" vtitle="Good Weather Bad Side PKG"]
KENTON, Tenn. — This year could be a rough year for farmers and it's all because of the weather, but not in the way you might think.
Harvest season is just kicking off and some farmers are worried. "Every year we're always optimistic that next year will be better than the one we're in," farmer Rance Barnes said. "I still think this fall we have the opportunity to make money."
The weather has been good for corn, but that's actually been a bad thing with the price dropping per bushel. "The USDA is expecting another fairly large corn crop, so yes, that keeps the prices down," Barnes said. Farmers' main concern going into harvest season is always if they will make more money than they put in, and that all depends on the cost of bushels on the market. "Corn is about a dollar less than I'd like to see it," Barnes said. "Today it's about $3.50 per bushel, and I like to see it up in the mid $4 range." Farmers have to plan for the worst if they hope to make a profit. "We knew this was coming, so we had to adjust our weight," farmer Amous Huey said. "Just like any other business, you have to plan for the future." Because it is still early in harvest season, the weather could still be a factor. "We get between 140 and 150 bushels an acre. We may do better on some fields just according to the rainfall and everything else," Huey said. "Factors that would help us out — weather crises in other parts of the world, a short corn crop here in the U.S. — that could be something that farmers around here look forward to," Barnes said. Farmers typically spend the same amount of money each year to get their crops going, but the market determines their income.