Adams on the Lockout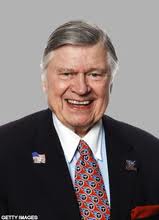 NASHVILLE, Tenn. (AP) – Tennessee Titans owner Bud Adams is predicting the NFL will play the 2011 season, even if it takes a few months to work out a new labor deal.
In fact, he guarantees it.
Adams spoke to reporters Monday night before being honored with a lifetime humanitarian award by the T.J. Martell Foundation. The 88-year-old owner used a walker on the red carpet but moved around well.
Asked what he would say to fans who want football and are sick of all the talking, Adams said he wants football, too.
Adams says he thinks it will take a few months. He says the players haven't wanted to work out a deal with the owners.
Commissioner Roger Goodell says the NFL is preparing as usual but it would be easier to count the nights he's actually slept in recent weeks.