The First Wave Of Strong Storms Comes To An End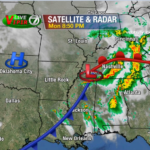 Updated 08:42 PM CDT
From the VIPIR Storm Team:
Well certainly a stormy day across West Tennessee. Plenty of hail reports and some damage from today's storms. Tom will have the latest on the aftermath coming up on WBBJ-TV at 10:00 PM. But to look at the rest of this evening.
Tonight: Scattered Thunderstorms come to an end tonight. Winds will gradually shift out of the northwest. Noted a but of clearing behind the main prefrontal trough, that should allow temperatures to fall tonight into the mid 50s. We should bottom out around 55°F overnight. We'll keep the clouds around most of this evening. In fact there may even be some patchy fog to develop. Dew points are still in the 50s and not much drier air is moving in with the added rain today its likely some fog will develop with the light winds.
Tomorrow: Mostly Cloudy day to start, but latest 00z HRRR shows dry air moving in aloft that should help break down the overnight inversion which will allow a partly sunny day. Temperatures should rise into the upper 60 to around 70 tomorrow. It should be an atypical spring-like day.
Latest Forecast: We have a nice break from the action, however we are watching late Wednesday into Thursday. The latest model guidance looks identical to today, only more moisture and it looks overall warmer. Latest 18z GFS/ 12z Euro sets temperatures to near 80 on Wednesday. Stay tuned to the latest information. Chief Meteorologist Tom Meiners will have the latest VIPIR Storm Team Forecast coming up at 10:00 PM It is my Friday, everyone have a great week!
VIPIR Storm Team 7: Meteorologist Moe Shamell
Email: mshamell@wbbjtv.com
Twitter: @WBBJ7Moe